United Airlines Careers
If you plan to apply for job openings at United Airlines, you should first familiarize yourself with United's hiring requirements and pay so you can maximize your airline career. Skills, experience, and hours logged impact wages for both captain and first officer positions. Therefore, it is wise to always compare entry level pilot salary to the average to get a better idea of the rewards and opportunities provided through United Airlines careers. How much do pilots earn is usually the first question applicants ask, but these jobs offer benefits beyond the pay, which is why you need to research everything from hiring requirements to income to other perks of the job. Best of all, United Airlines is a partner airline with Epic. You can go from training at Epic to United through the Aviate Program.
Type of airline: U.S. Passenger
Headquarters: Chicago, Illinois
Hubs: 
Chicago-O'Hare
Denver
Guam
Houston
Los Angeles
Newark
San Francisco
Tokyo-Narita
Washington-Dulles
Service to 342 destinations
Fleet: Currently, United Airlines has 854 aircraft, which includes the Boeing 737 MAX 10, B737 MAX 8, and Airbus A321
Origin: The company started in 1926 as Varney Air Lines.
Values: Safe, caring, dependable, and efficient (core4 service behaviors)
What are the hiring requirements for United Airlines careers?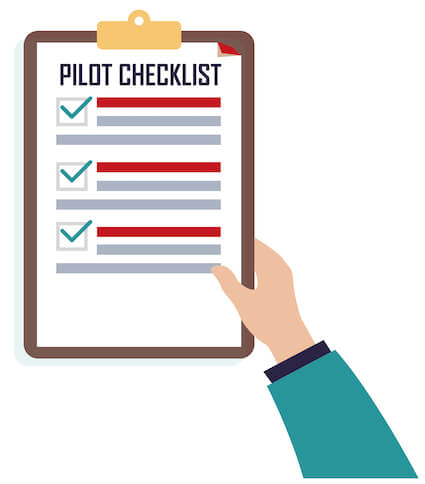 First Officer Job Requirements:
United Airlines is looking for talented pilots who:
Reflect the company's leadership qualities – These include your ability to model character, think creatively, get results, and model teamwork.
Share United's commitment to core values
Demonstrate a passion for aviation and an ongoing commitment to excellence and achievement
Certification Requirements:
Unrestricted FAA Airline Transport Pilot (ATP) (with airplane multiengine rating)
Current FAA first-class medical certificate
FCC Restricted Radiotelephone Operator Permit (RR)
Flight Time Requirements:
1,500 hours total time (minimum)
1,000 hours total time (minimum)
A minimum of 100 hours of flight time within the last 12 months is preferred
General Requirements:
Passport – must be current with a minimum of 6 months remaining at time of hire
Legally able to work in the U.S. without sponsorship
Able to travel freely with the U.S. and without restrictions to all countries where United flies
High school graduate or GED
Bachelor's degree from an accredited school (preferred, not required for First Officer position). Note: All foreign transcripts need to be evaluated for equivalency to U.S. degrees by a member organization of the National Association of Credential Evaluation Services (NACES) and overall authenticity
International Certificate of Vaccination for Yellow Fever (Yellow Card) (present to United Airlines within first 10 days of employment). Note: If you are unable to be vaccinated against either COVID-19 or Yellow Fever due to a medical restriction or sincere religious belief, you will need to participate in United's Reasonable Accommodation Process (RAP). United is unable to consider you for employment until this process is complete.
Proof of full vaccination against COVID-19 must be presented to interview and again on the first day of employment. (Note: The CDC considers people to be fully vaccinated against COVID-19 two weeks after their second dose of a two-dose series, such as the Pfizer or Moderna vaccines, or two weeks after a single-dose vaccine, such as the Johnson & Johnson vaccine.)
Punctual and reliable attendance. Additionally, United requires availability without any planned absences during the first 12 weeks of employment.
So, exactly how much can I earn as a United Airlines pilot?
Here is a sampling of United pilot hourly wages. Pilot pay changes based on various factors, such as type of plane, years of experience, etc. For instance, this is for the Airbus 320.
| | |
| --- | --- |
| First Officer | Captain |
| Starting: $91 | Starting: $260 |
| Average: $176 | Average: 270 |
| Top: $193 | Top: $283 |
How are the benefits at United Airlines?
United Airlines offers a competitive compensation package with benefits. These include, but are not limited to:
Medical insurance
Dental insurance
Vision insurance
Life insurance
Accident insurance
Disability insurance
Employee assistance
Paid holidays
Defined contribution plan
Travel privileges
Homepage: United Airlines
Contact Information
Email: [email protected]
United Careers: Overview
We have tried to provide the most accurate information here regarding hiring requirements for commercial airlines, we encourage you to contact the airline you're interested in working for directly to verify employment requirements. Learn how much you can earn as a pilot, and learn exactly how to become a pilot. We wish you great success as an airline pilot and hope you land your dream job! Before you fill out that job application, you will need flight training. If you are interested in pursuing a flying career with United Airlines and are interested in receiving your training at our flight school in New Smyrna Beach, Florida, please contact us today!
Airlines! If you have an update for your hiring requirements, please submit them to us! Thank you for helping us keep your information current!