8th Annual Epic Aviation Scholarship Awards in 2023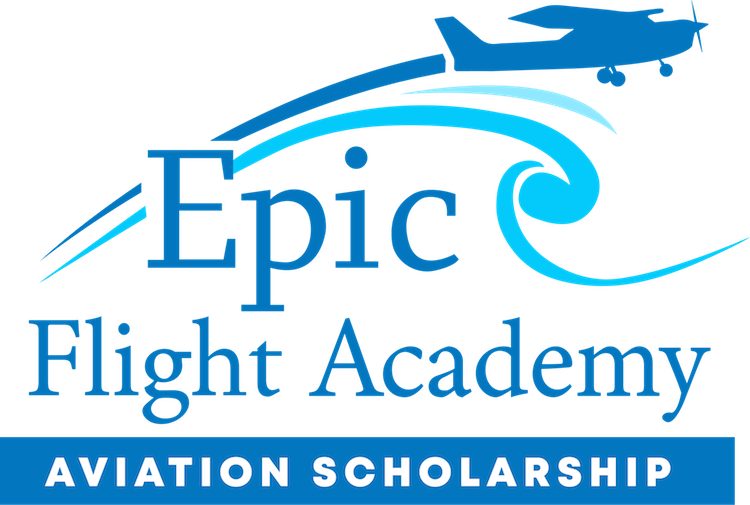 Awarding 6 Scholarships Totaling $75,000
Aviation Scholarships for U.S. High School Students:
Epic's aviation scholarship program continues to grow each year to support young people interested in aviation. These scholarships are open to U.S. high school students. In 2023, we'll award 4 pilot scholarships and 2 aircraft mechanic scholarships. The 3 $5,000 flight scholarships will be awarded for use at our locations: 1) New Smyrna Beach, FL; 2) Ocala, FL; and 3) Tallahassee, FL.
In 2022, Epic awarded three flight training scholarships and two aircraft mechanic scholarships. Epic Flight Academy prides itself on attracting top students. We invite high school students from anywhere in the United States to apply for these scholarships. Epic has awarded more than $280,000 to 20 high school students in the last seven years.
2022 Winners
The 2022 winners: Aaron Perez and Ethan Harpending each won $20,000 for aircraft mechanic training. Landon Bosco and Roland Ireland each won $5,000 for flight training, and Austin White won $20,000 for flight training. Congratulations to all!
Thank you to our 2022 Sponsors!
High School Scholarship Requirements:
First, the applicant must be a U.S. Citizen or Permanent Resident.
Furthermore, the applicant must currently be a junior or senior attending high school in the U.S. for the flight training scholarships.
For the aircraft mechanic scholarship, applicants must currently be a senior attending high school in the U.S.
Applicants must be turning 16 years of age or older on or before December 31, 2023 (flight training); or, you must be 18 years old by time of completing program (aircraft mechanic)
All applicants must be able to start training within 12 months of receiving the scholarship.
Also, you must be able to use the scholarship within 24 months.
Additionally, you must have parent or guardian's approval if under 18 years of age.
Most importantly, applicants must have consistent, reliable transportation to attend Epic Flight Academy or be willing to relocate here during training.
Finally, you must be able to present a Third Class Medical for the flight training scholarship.
High School Scholarship Application Details
DEADLINE TO SUBMIT APPLICATION IS OCTOBER 1, 2023
SCHOLARSHIPS WILL BE AWARDED ON SATURDAY, NOVEMBER 4, 2023
Our goal is to give applicants the opportunity to provide quality submissions and showcase their attitudes. We are interested in learning your views on flying, goal-setting, and other qualities.
Applicants should first review the requirements of the 2023 Scholarship Application below. Then, applicants should complete all steps, such as securing letters of recommendation. Lastly, they should upload all required documents.
What is included in your application?
Upload PDF document containing Community Service Involvement & Extracurricular Activities, including Organization/Affiliation, Date and Duration, and Location
Upload PDF document containing responses to both of the following Short Essay prompts:

Short Essay 1: What personal attributes would you look for in a scholarship applicant?
Short Essay 2: What is your motivation for your flight training goals/aircraft mechanic goals? (Include your goals.)

Upload 2 Letters of Recommendation: At least one must be from a high school teacher, counselor, coach, or other school official. Both Letters of Recommendation may be from teachers, counselors, coaches, or other school officials. Letters of Recommendation must not be from anyone related to you, including a guardian. Letters of Recommendation should be from adults who have served in a supervisory role to you. Please ensure that the Letters of Recommendation include the reference's contact information.
Create YouTube Video: In two minutes or less, creatively explain why you feel that you are the strongest candidate to receive a scholarship. Upload the video to YouTube, and be prepared to provide the link in the application.
Upload Aviation-Related Photo: Provide us with an aviation-related photo of yourself in either jpg, jpeg, or png file format. If you win, we will share your photo on our website and in other scholarship materials.
How to Apply:
Please note that there are TWO different application forms depending on whether you are applying for a pilot scholarship or a mechanic scholarship. Please choose the correct button below to apply. (Note: Applications close on Oct. 1, 2023.)
Scholarship FAQs:
How many scholarships will be awarded in 2023? We will award flight scholarships to 4 U.S. high school students and mechanic scholarships to 2 U.S. high school seniors. So, we will award scholarships to a total of 6 high school students.
What is included in the high school scholarship application? The application consists of:
several short essay questions
your current high school information
community service
letters of recommendation
one video uploaded to YouTube
one photo
Do I get additional points for submitting my application earlier that other applicants? The date an application is received carries no weight in the scoring process. However, the application must be submitted by the October 1st deadline.
When will I know if I've been selected for the final round? We will notify final round applicants by October 15th.
What is the next step if I'm chosen for the final round? Final round applicants participate in a phone interview with a panel of judges who will determine the scholarship recipients. .
Must I attend the award ceremony on November 5th? If you win, you are not required to attend, although we do hope you will. Our aviation scholarship awards event is a lot of fun, and you'll get to meet a lot of Epic staff and students.
Visiting Epic
Do I need to visit Epic Flight Academy in order to be eligible? It is important that applicants explore all that Epic Flight Academy has to offer and ensure our flight school is a good fit. We'd love to have applicants visit our campus. However, we understand that scheduling a visit can be a challenge. If you are unable to visit our campus, don't worry! Contact us if you have questions. Also, you can take a virtual tour and learn a lot here on our website. (NOTE TO TEACHERS: Epic offers field trips if you would like to bring your students to campus.)
Will I get additional points for visiting Epic Flight Academy? Applicants that visit Epic Flight Academy do not receive any additional points or consideration in the scoring process.
Aviation Scholarship Awards Event
We will host our 8th annual award ceremony on Saturday, November 5 from 4:00 pm to 6:00 pm.
Past Epic Aviation Scholarship Recipients
2022
2021
2020
2019
2018
2017
2016
Epic Aviation Scholarship Contact: Dr. Cindy Lovell
Interested in becoming a 2023 sponsor? Contact us!
2022 Epic Aviation Scholarship Winners
Austin White
Landon Bosco
Roland Ireland
Aaron Perez
Ethan Harpending
2021 Epic Aviation Scholarship Winners
Abdul Maflahi
Luke Hamilton
Tyler Vischer
Julia Juedes
2020 Epic Aviation Scholarship Winners
Michael Leonardi
Sadie Gerstle
Edson Delgado

2019 Epic Aviation Scholarship Winners
Trace Martinson
Bronwyn Rees
2018 Epic Aviation Scholarship Winners
Nicholas Antedomenico
Julio Cejas
2017 Epic Aviation Scholarship Winners
Ryan Groel
Mitchell Nathan
Skye Sobzack
2016 Epic Aviation Scholarship Winner
Victoria Taranowski
Lastly, we wish everyone the best as you apply for an aviation scholarship. Also, you may visit our scholarship resource list to see if there are additional scholarships for which you can apply. Certainly, aviation training can be costly. However, scholarships can help minimize the cost.